After a long and rather convoluted trip across the Rockies from Montana, what to the wondering eye should appear but a pretty good little fair on the south side of Walla Walla, and not at all difficult to find ... Walla Walla not being the largest town you ever did see (but a nifty looking downtown).
Parking: $4, fair admission: $7, program: $3.
Standard metal construction grandstand of a fairly impressive size, with boxes down front and rows A-Y of plastic bench seats w/backs, and a nifty plate metal floor that flexed and boomed all day long as people walked on it. Not to mention the convenience of a fully functioning fair midway, right out back. All the major rides, such as The Zipper, Tilt a Whirl, The Octopus, The Scrambler, and the giant flying boat, but tragically, no Frog Bog in the hustle section. No fair is truly complete without Frog Bog.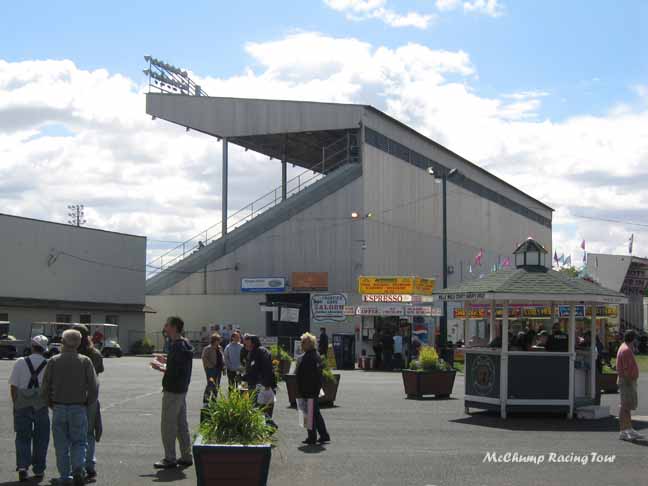 All the food at ths fair was a little on the expensive side, like $7.75 for a hamburger, or $8.75 for a bbq beef sandwich. I tried a bbq "tri tip" sandwich that was $7.50, IIRC, and it was only "OK". The $3.00 corn dog was the same. And, for $4, you would would think they might have something more than Coors Light. However, the concessions were my only complaint on the day, which was a nice one, in the mid-70's, and a bit breezy.
There was no horseback presentation of Our Colors, nor even a live rendition of Our Anthem. The water truck almost soaked the rodeo queens, though, and that was pretty exciting.
Nice little paddock & jocks' quarters off the right end, w/beer tent (left) located convenient to wagering windows (right).
Starting gate right on the fair midway.
A first rate Winner's Circle. The jocks and horses were many of my old friends from previous northwest meets. Jocks Nikeela Black, Joe Crispin, Ruben Camacho, and Terrance Birdrattler were familiar, and of the horses, many were ones I'd just seen in Montana and at Ely, NV. Purses on the day ranged from $1300 to $2500. Joe Crispin ended up top jock of the 3 day meet with 8 wins, and Don Abrahamson was named top trainer ... wherever he was, as our low-key announcer revved up a little more than usual and repeatedly invited him to appear down front for the presentation.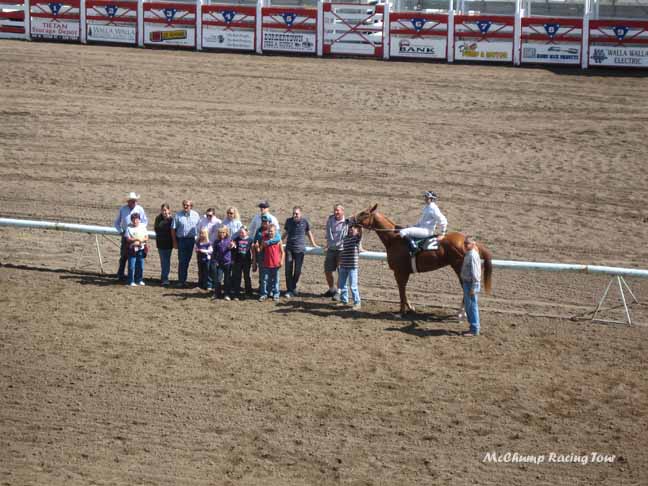 The 1-1/8 mile finale takes its 2nd of 3 passes by the stands. Rodeo must be pretty popular around these parts, as they had far more seats than the normal fair grounds. Nice brown hills of SE Washington in the background. It really doesn't get much better than this ... even if you are busy losing $30 American on the day.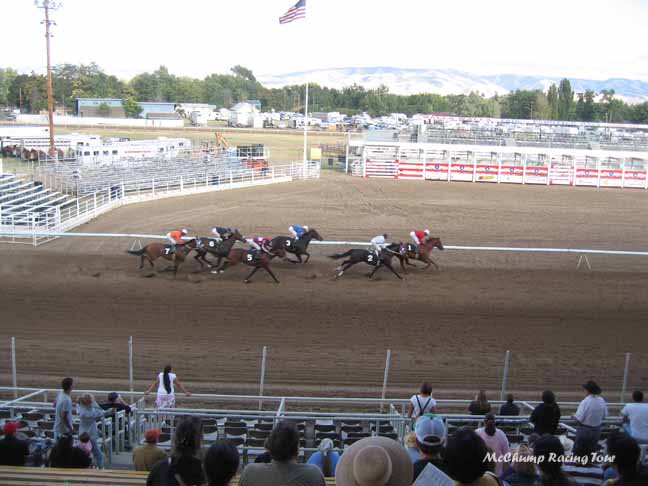 All in all a very enjoyable and pleasant day with a friendly race crowd that turned out pretty nice after a slow start.
But wait! There was more! Elvis was there, as he inexplicably is at so many county fairs, even so many years after his passing. He treated us to a selection of familiar favorites after the races, in the little park with the vintage farm equipment. Who needs a stinking Vegas show? Elvis is a man of the people. He rules.