The 2007 "Track Too Far" Tour
Three weeks, eight tracks, a bunch of scenery, and 4933 miles -- it was, in fact, at least one track too far, if not more. But I soldiered through. Man, was I exhausted and glad to get back to Montana. But there were some nifty little tracks, and lots of nice scenery. Never again, though! At least, not for awhile.
Track 1 - Sunflower Downs
Winner! The McChump Tour's 2007 "Podunk Track of the Year"!

The first stop on the Track Too Far tour, after a lovely 2-1/2 day drive drive on two lane highways following logging trucks through NW Montana, the Idaho panhandle, wild NE Washington, and the lower Okanagon valley of BC, was the town of Princeton, BC, located in the wilds of British Columbia, out in the mountains a few hours east of Vancouver, the home of Sunflower Downs. It runs a one day per year horse racing meet, and this was the 39th running of Princeton Racing Days.
The strangest looking little fairgrounds, it looks like a forgotten western movie set, out in the middle of nowhere above town. Inside is even more movie set. Admission was free, but the program was $3 Canadian.

It was nice of them to label the paddock for us.

Luxury jockey quarters!

View of the grandstand from the fa-a-a-a-bulous beer garden. It was a masterpiece of ancient wood, with plenty of pigeon poop and dust.

Warming up on the far turn. During the course of the day, a horse dumped its jockey on that turn, bolted, jumped the outside rail, took a right, and was gone up a road into those hills, with numerous pickup trucks and mounted horsemen soon in pursuit. It was found and brought back two or three races later, to the resounding cheers of the crowd.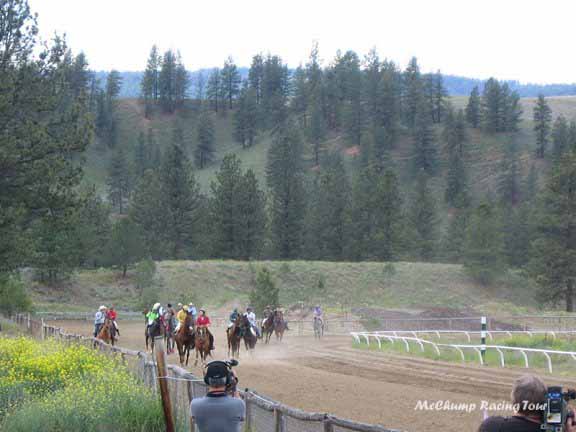 This is, apparently, THE BC interior racing starting gate, today with a Sunflower Downs sign affixed. It - or its identical twin - showed up a couple weeks later at Kin Park, with a new sign. The track was a groovy 4f oval with lots of rocks, and some seriously banked turns.

The infield was nicely landscaped. I think that's a motocross course in there.

The toteboard was the highlight of the day for me. These kids had it going on, as far as keeping it up to date. The wind often had other ideas, however.

The food was okay. $4.50 for a decent cheeseburger, and beer (all Bud of it) was $4. I met some of the nicest people at this track - very friendly!
The big race of the day was the legendary Similkameen Cup, 1-1/16 miles, $10,000 added, carded as the 9th, but there were just so many delays all day. First there was the horse that ran up the hill, and then some other things, and finally the 8th race we had like a double whammy, where the 3 horse threw the girl jock in the post parade and she lay there on the track hurt, and then the 10 horse got loose, too, and went running around and bowled over some guy and broke something by the backside gate, and all of sudden the medical staff was tremendously overwhelmed and an extra ambulance had to be called, and then there was no ambulance on site, and it was a huge delay, and well ... it looked like the Similkameen Cup might go off about midnight, and all around me were drinking more while I thought I should be just about done, and I hadn't checked into my fabulous digs overnight digs yet, and ... So I left without seeing it. Sue me.
But all in all, a two thumbs up day at a fun little racetrack, with very friendly people.
Should you ever plan to visit Princeton, try to get one of the in town hotels. I didn't, much to my sorrow. This looks like one cool little town ... but I only saw it as I drove through.