I knew Zia Park wasn't running this time of year, so this stop couldn't count as an official "new track visit", but I just had to stop by as long as I was in the neighborhood, what with Hobbs, NM, being on the way from Chicago to Montana and all, and find out just why it was so necessary for the State of New Mexico to add a horse racing track in some town I never heard of in my life before this track, out in the middle of nowhere on the border with west Texas. Well, duh, it wasn't the horse racing at all, was it, it was slots, and sucking money out of Texas cities with names like Midland, and Odessa. A racetrack built not so much for horse racing at all, but for slots, first and foremost. How did that fit in to The Gospel of Slots Racing, I wondered.
Hey! Isn't this cool? The World's Largest Cross, or some such, somewhere between OK City and Hobbs, NM. So take your choice, Oklahoma or Texas. And here I thought North Dakota always had the World's Largest Everything. Let this be a lesson to those honyockers!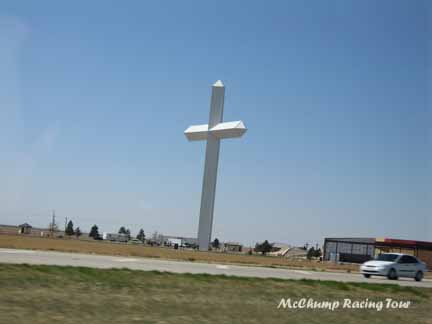 Well, the closer I got to Hobbs, the more I wondered. Barren, desolate country, populated mostly by trucks of all sorts carrying roughnecks hither and yon to various oil projects, and supposedly somewhere close by, a uranium mine. And that, my friends, was attractive compared to the town of Hobbs itself, an armpit of the world if ever there was one. I learned later it called itself Hobbs, America (copycatting Butte, America), because neither New Mexico nor Texas wanted it. It was easy to see why. Uuuuugly! Nevertheless, I duly checked into my incredibly overpriced Days Inn room (thanks to the roughneck trade) and set out for the north side of town, where was to be found this new jewel of the desert and much needed racetrack, Zia Park. Of course, it was located in a particularly ugly part of an ugly town. But, the parking lot for the track was nice, and the building itself was semi-attractive.
One friend said Zia sort of looks like a Denny's from this picture, and I can see it.

Admission was free. Woo hoo! Inside, it was kind of small, and dark, with a bar and some tables immediately inside the door upfront, and a dance floor in the middle of what seemed to be the simulcast room/main floor racing area, and a not so big slots area at the back with the usual selection of mermaid themed slots machines that are well known to be ripoffs, because who can trust a mermaid? There looked to be more facilities upstairs, particlarly of the racing variety, but I didn't go. There were a few people playing the slots, but not many, and besides me, four people playing horse simulcasts, and the bartender. Well, I was more drinking a beer, looking around, and betting $2 on any horse that looked fit n' ready on the TV screen than seriously playing simulcasts, but it seemed to be about as much as anyone else was wagering. It was quite an energetic crowd.
I did decide that Zia Park was now a contender for ugliest infield in all of racing. That's kind of what the whole country around there looks like.

Your standard looking grandstand.

Generic paddock.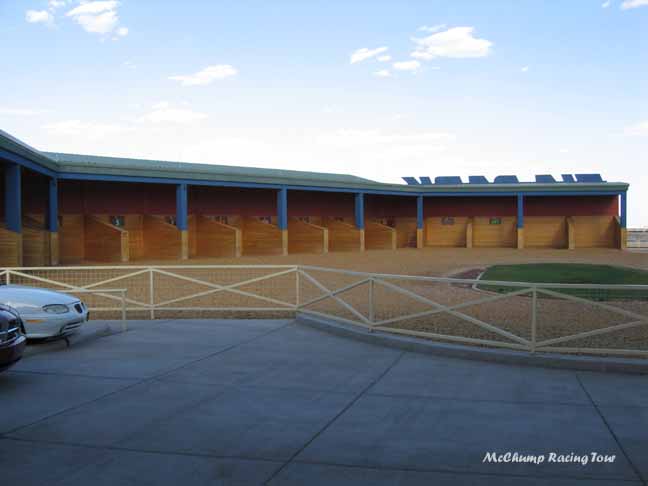 When the track was first proposed, and approved, the original partners made all sorts of big development promises to the town of Hobbs, but never somehow quite got them done. Then they sold out to Penn National, took the money, and ran, and you can't really hold a new owner to all those promises, can you? So now this is all there is ... a kind of small, generic racino on the north side of an armpit town, with an interesting exterior. Surely, The Gospel of Slot Racing.
There was nothing going on there. Nothing at all. I left rather quickly, and went back to the Days Inn where there was some real fun with all the loud oil workers and their trucks.