Back in November, after returning from Louisiana Downs, the McChump Tour travel committee looked over the likely upcoming travel schedule between the final meeting of the Kelly Sampson Fan Club at HAW in mid-December, and Opening Day of horse racing at the Chicago Motor Speedway on the first weekend of March. Except for a weekend at Hollywood Park and Los Al, two trips to Sam Houston, an afternoon at Manor Downs outside Austin, and a weekend in New Orleans sucking down crawfish etoufee and visiting FG, it looked light. Really light.
So on a slow afternoon at The Big Co., a call was placed to the DRF to sign up for the big Horseplayer's Expo to be held in Las Vegas. That ought to fill in the hole in the travel schedule, you betcha.
But, come February, as the big UAL 757 descended into the airspace close to McCarran airport and the cheesy skyline of Las Vegas manifested itself outside the window in all its glorious cheesiness, just a small sense of foreboding permeated the vicinity of seat 21F. For you see, between November and mid-February, there'd been a lot of phone calls between reps of the DRF and reps of McChump Industries, trying to get all the details and arrangements straightened out, and correct. The party in seat 21F wasn't quite confident that the race was actually in hand at this point, if you get my drift.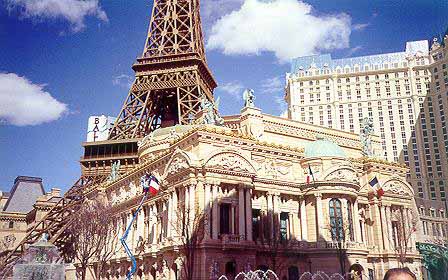 And yes, indeed, the faux-Frenchman at the Paris Hotel registration desk didn't have my reservation after I stood in line for about 40 minutes, the same registration that I'd confirmed with the Paris over the phone about 4 days earlier. "Oh! Your registration was a _3rd party_ one", he said, inflecting 3rd party about the same as anyone else would inflect the phrase 'steaming heap of dung'. "Theeerrrrre's your problem. You'll have to go down to the DRF Expo registration desk to get it straightened out." Insincere pearly smile. Next customer, please! Cha-ching!
So down to the DRF conference registration desk I trudged, with just a tad of grouch going on, luggage in tow, dodging the huge number of touristas who seemed to have nothing better to do than stroll and gawk and generally gomm up the little fake French street which constitutes the primary walkway in the Paris, and explained my case to the DRF reps on site, Mandy Minger and Jennifer Lusk. And they were very helpful and friendly, and promised to take care of the situation, but it might take a minute or so. Meanwhile I decided to hang in the mini-racebook area behind the registration desk.
While standing there looking stupid, mad, and lost, the McChump party was engaged in conversation by a gentleman who was also in the mini-racebook, and this turned out to be Barry Meadow. This proved to be a very nice interlude, taking the edge off my grumpiness, and helped immensely in the cause of me not totally freaking out and throwing a big fit. For you see, Las Vegas is about 23 hours by air from Chicago, and I was tired. And hungry. And my traveling partner was mad as well, and it was all my fault.
All's well that ends well, though, and after awhile and some dinner, the DRF folks got everything straightened out and the McChump party had a room, a very nice one, an upgrade actually for the same price, a asuite. And whaddya know it was just about time for the the opening night cocktail reception. And of course, the McChump Tour loves cocktail receptions.
Hilarious opening remarks ensued by Harvey Pack. Renewed acquaintences made with Lee Tomlinson and Mark Cramer. Shakin' hands with Tom Brohamer; I'm sure he remembers. Nice conversation with Steve Klein, the DRF's KY handicapper and an easy to talk to kind of guy. Introduction to, and conversation with, Dr. Steve Roman. And of course, an open bar. Just love open bar.
Day 2, Friday, February 25
This was the first real day of the Expo, and a busy one it promised to be, with presentations and sessions and symposiums scheduled from 9:00 am through 9:45 pm. Even conferences I've attended for work have never kept me hopping to this extent. But we horseplayers - we're hard workin' kind of guys.
For my 9:00 am choice I went with "Contrarian Thinking and Unpredictable Races: Angles and Patterns That Pay Well", presented by Mark Cramer. Meanwhile down the hall I was missing a Tom Brohamer session as well as one by Ellis Starr. Mark discussed a number of situations in which one could expect to find good prices on horses, and the most important thing I took out of this session was the result of a study Mark did which revealed that it isn't usually the obscure low percentage trainers that put over the longshots, but the trainers with 12% and above winning percentages.
At 10:15 am, I stopped by Gordon Jones' "How to Play Midsize/Smaller Tracks" presentation, choosing it over a Steve Davidowitz session and a Jim Quinn session (this was always a struggle, selecting which one of three good sessions to attend). My big takeaway from this session was adfvdafvdfvdaf
11:30 am brought up Caton Bredar's "Paddock and Walking Ring Inspections", a tough choice over a Barry Meadow session and one by Jeff Siegel. Caton gave us lots of things to look for when looking over the horses before they ever hit the track, but the thing that stuck most with me was her admonition to look at each and every horse and rate out its appearance and behavior totally independent of any handicapping you might have done before the race to avoid any sort of prejudice either for or against a horse.
After lunch, a jaunt down the street to Fat Burger, which wasn't as good as I had been told Fat Burger was, there was a general session for everyone, presented by Andy Beyer, on the subject of "Full-Card Simulcasting and Winning". Lots of this material I'd read before in Andy's Washington Post columns, such as the use of StableMail to alert you to horses coming back after bad trips or runs against biases. Not a whole lot new in this one.
At 3:00 pm I chose a Steve Klein session titled "Bottom-Line Handicapping: Identifying Overlays and Longshots that Figure" over another Jim Quinn session and George Kaywood's session on the use of the Internet (sorry George). Steve presented quite an array of statistics and situations to both embrace and avoid, but to me the most interesting thing here was his "top 3 overlay" angle, in which he asserted that 7% of top 3 m/l horses will go off at twice the morning line, and betting on these horses will generate an automatic positive ROI.
After that I was gonna skate out and go downtown to visit the Gambler's Bookstore but there was a huge line of touristas at the cab stand out front of the hotel and the store closed at 5:00 pm anyhow, so the McChump party elected to take a nap.
The evening brought about Symposium I at 7:00 and Symposium II at 8:30, and these were panel discussions on playing the Winter-Spring simulcast signals and then the Summer-Fall simulcast signals.
The first was moderated by Gordon Jones and featured Davidowitz, Kaywood, Litfin, Mazur, and Quinn as panel members. Gordon made for a real good MC, guiding the panel through discussions on what to look for as far as a Triple Crown type horse, where to look for sources of information to play these tracks, what tracks would be best to play during the winter and spring, and some winning angles and patterns at those tracks.
Symposium II was moderated by Harvey Pack, and featured as panelists Free, Gutfreund, McMannis, Labriola, and Watchmaker. Harvey took somewhat of a "wing it" approach with his panel, so we got discussions of turf racing in general, what tracks favor speed on the dirt and which don't, and all sorts of side discussions on a wide array of racing subjects and issues, along with a good sprinkling of Harvey Pack jokes and stories. Which was a good thing, as everyone was pretty tired by then, and Harvey kept us awake.
Late dinner, very late, with the McChump party in the company of Mark Cramer and tournament player Steve Terelak, mostly discussing handicapping tournaments, and catching up since last we met at the 1999 Irish Derby.
Day 3, Saturday, February 26
Back down at Expo HQ early on Saturday morning, the horseplayers were already busy in the mini-racebook, handicapping away, watching pre-race programs from the early East Coast tracks, scoring their free DRF's, and generally getting ready for another busy day of playing the horses in between conference sessions. The bagels and coffee were quite welcome.
For my 9:00 am session I dropped in on Brad Free's presentation of "Positive and Negative Form Patterns", reluctantly passing up sessions by Paul Braseth, Jim Quinn (for a 3rd time), and David Gutfreund. Brad led us through a discussion of Silver Charm's pp's, explaining how the unexpected loss of early speed in [some minor San-something] signalled his impending loss of form, and discussed several other indicators of both improving and declining form.
After 9:00 am there'd been a bunch of adjustments to the schedule, and at 10:15 I ended up choosing to attend a Scott McMannis session titled "Information Resources Regular Handicappers Must Possess" over offerings by Iggy Brodzinski and Steve Roman (sorry Steve). Scott put on quite an entertaining show, as he counseled us to create or purchase accurate local speed figures, trainer patterns and profiles, trip and trouble notes, and track bias information in order to gain an information edge over anyone else who might be playing our local track. I also ran into an old acquaintance after this session who said Iggy Brodzinski's presentation had been such an excellent one that a person might want to buy the tape. Well, at $15.95 or $16.95 or whatever the tape, I reluctantly passed.
Okay, NOW it was going to be time to skate out and visit the Gambler's Bookstore, so skate out the McChump Party did, with a quick cab ride downtown. And what a joy this store is, with a huge section of pretty much every handicapping book currently in print, as well as some pretty interesting stuff in the back room used section, and oddly enough all of Mark Cramer's stuff marked "autographed edition", as Mark had visited the store on Thursday and had been immediately pressed into service. I ended up purchasing the two Cramer works I didn't already have, Bradshaw's "The Match-Up", a copy of Olmstead's trainer patterns handbook, and Gary West's "Razoo at the Races" (which I read on the plane ride home and I give it about a C grade). All for just $149.95!!!!!!!
And the store personnel were very helpful, even calling a cab for the ride back to the hotel, which this cabbie did by taking Las Vegas Blvd. as opposed to the previous cabbie who had taken the freeway. The difference between night and day.
Just a word or 500 here on the Paris Hotel, and the "new look" Las Vegas. And I'm going to precede these words with the observation that service and so on at the Paris Hotel was excellent. Every employee I came in contact with was a credit to the place, from front desk, to the folks in the shops and the racebook, through housekeeping. And I'll also caution that I never really liked Las Vegas in the first place.
Everyone has seen photos of the outside of the Paris Hotel, I think, but for those who haven't seen the inside, the whole conceit is that you're somewhere on some smallish Parisian street, cobblestones and all, with a fake blue sky above, lots of little fake shop and apartment fronts up to about 3 "stories", lots of real shops and restaurants and cafes tucked in along the edges of the ground floor, Parisian-looking lamp posts and benches with humanoid statues sitting on them, hotel security guys dressed up like Paris police, the occasional strolling mime or some such, a guy in a black and white striped shirt and beret driving a bread bicycle, all the employees addressing you in French, and so on and so on and so on. Just like you'd imagine Paris to be if you'd never actually been there, except for the fake sky that never clouds over, never rains, never gets dark, never delivers a nice fresh breeze, never allows any noise to escape off into the blue, never delivers the sight or sound of a bird, and never once feels like it is actually a sky.
Now then, the layout here is casino up front, hotel elevator tower down the walk a ways, and then, way way in the back of the hotel, the ballrooms which also serve as meeting rooms for conventions such as ours. The big problem here was that way way in the back business, because one had to traverse the entire length of the (rather narrow) fake little street with all the shops and restaurants to get from the conference to one's room, or vice versa. And this little street was constantly, morning noon and night (except for maybe at one am or so), jam packed with tourists walking slow, gawking, walking without looking where they were going, standing in the middle of the sidewalk doing nothing, taking pictures of the inside of a hotel for goodness' sake, standing around in large herds to see what the mimes were doing, and in general, making each and every transit down that little street an absolutely miserable experience.
Where all these tourists came from was never evident. You could walk out front to the main entrance and look to see who was coming and going, and there wouldn't be that much activity, but then walk inside and boom! there'd be the herd. Or maybe go down to the other end and see who'd be coming in through Bally's and presumably the people mover, and it'd be no one. But get 3 steps into that little street and it'd be like the crush around the paddock at a Breeder's Cup event. And all this time these tourists were busy milling around, the casino was never more than half busy. Dealers and croupiers standing around empty tables looking bored, entire banks of slots sitting empty and forlorn without even one blue haired little old lady sitting there plunking in quarters. And this, my good friends, is the new Las Vegas, not a gambling mecca, but a tourist attraction.
When I first visited back in the 70's, and maybe even as recently as the last time I visited, some 15 years ago, this far south end of the strip was an unpopulated wasteland, with the Tropicana a distant, distant outpost at the end. When you walked into a hotel back then the attraction was the casino, except of course for the always delightfully cheesy circus at Circus Circus. You could drive a car down Las Vegas Blvd from one end to the other, or to downtown, in just a few short minutes. And the prices everywhere were cheap, cheap, cheap.
But now the whole strip, from about Caesar's Palace south past Tropicana, is covered with giant theme hotels like the Paris, the streets are filled with cars barely crawling along while kicking up clouds of dust and smelly exhaust, the sidewalks are jammed with strolling tourists, the casinos are half-empty, and the prices for everything rival those in New York City. People are apparently visiting Las Vegas these days to gawk at the outside and inside of hotels that look like an Egyptian pyramid or the skyline of New York City, and applaud the performance of dancing fountains, instead of gamble. And the prices are now tourist prices, not the bargain gambler's prices of the days of yore.
Needless to say, I dislike Vegas way more now than I used to. At least it used to have a certain level of cheesiness that was endearing. Now it is simply obscene. But there is something to be said for seeing all the important sights of the world along one street. Saves quite a bit on the expense of actually travelling to see the real thing, I'd imagine.
And so, back at the hotel, after duking my way back through the throng of tourists on the little street to the Expo area, it was finally time to resume the Saturday afternoon sessions.
At 1:45 pm I elected for Lee Tomlinson's presentation on his Tomlinson Ratings over offerings by Charles Carroll and Joe Takach. The really really really important takeaway I had here was that Lee does not use wet-fast tracks when he is making his mud ratings, and that was an important thing for me to learn, as I'd been struggling trying to use the ratings on days it was wet fast. So from now on, they're only to be used for muddy, sloppy, slow, and heavy.
3:00 pm brought up Lauren Stich's session on "Pedigree Handicapping: Maidens and Other Applications" in tough competition with a Dave Litfin offering as well as an Andy Beyer/Barry Meadow, but I went with Lauren's and was glad I did. Unbelievable the way pedigree knowledge just flows forth from this lady. Lauren gave us some basics regarding looking at sires for surface and stamina, and dams for class, talked to us a bit about "hidden turf" influences in sires one wouldn't normally think of as turf sires, discussed the pedigrees of a number of the current Triple Crown hopefuls and her assessment of their ability to get the job done, and provided an excellent handout on freshman sires and what to expect from their progeny.
The Expo was deep in the stretch at this point, at least as far as formal sessions went, and I made my last choice of the event, electing to go for the 4:15 Gibson Carothers offering entitled "Uncovering Longshots", passing up a Jim Mazur session as well as the 4th and final Jim Quinn session of the meet. Oh well. Mr. Carothers said he liked to do his handicapping from the charts, looking for "whispers" in there that might indicate a horse that finished poorly and thus will be a long price next out actually didn't run that bad of a race. His absolute favorite was the horse that shows speed and fades, or tires, but there were quite a few more helpful hints passed along as well.
Evening brought on "The Handicapper's Banquet". Yet another hour of open bar preceding, a good thing, and a chance to catch up with another old acquaintance. A pretty decent dinner with a nice piece of filet mignon and some good red wine, introductory remarks by William Murray which consisted mostly of humorous stories and jokes and Mr. Murray was quite entertaining, and then a keynote address by the DRF's own Steve Crist, who kept things short and sweet, while still managing to skewer a good number of people in his own inimitable style.
Day 4, Sunday, February 27
This was it. Graduation day. A number of "Day of the Races" seminars were planned for the morning, which were simply the experts sitting down and going over the cards at various tracks. And then it would be up to us to play the horses in the afternoon.
Well I kinda dawdled getting packed up and checked out and so on, so I managed to come in on the very end of a seminar that Lee Tomlinson and Mark Cramer were doing, and just got Mark's possible plays at Turf Paradise. As long as I had the TuP form sitting in front of me, I 'capped another couple of races in there just for fun, tabbing a possible 0-0-19 maiden claimer type play in the 1st (except it was more like a 4-17 play in this case), and a beatable favorite type play in the 3rd.
Supposedly everyone was going to be playing over at the Paris racebook, so the McChump party headed over there only to find it completely packed already, so it was back to the Bally's book for the afternoon. My DRF Expo badge earned me another free DRF there at the Bally's racebook, and down I sat to InstaCap(tm) the card at Fair Grounds.
Immediately a free beer appeared.
InstaCapping(tm) was red hot on the early part of the FG card, starting with a $30 winner in the first, and blah de blah some other nice winners and exactas, and I was having so much fun and success there with the FG card that I totally lost track of time until - oh oh - up came Michael Wrona's voice calling Turf Paradise and I'd failed to get a bet down on my 1st at TuP. Naturally, Scott Stevens took my 4-17 maiden claimer on to victory at 9-1, and I'd missed it. Damn!
That pretty much took the wind right out of my sails, and things went all downhill from there. Didn't win a thing at FG again until the last race on the card. Mark's longshot selection in the 4th at TuP got a horrible trip and finished 3rd. Another of Mark's selections at TuP went off as the 1-1 fave and won for fun. Couldn't bet it at those odds. My false favorite play was truly that, as the horse was scratched out of the race, and one of the two horses I'd picked to beat it won the race, but only at 2-1. Couldn't bring myself to bet a 2-1 horse either.
The true enternatinment of the morning was watching some player who'd made a huge score take all his winnings in cash, huge piles of it, and somehow knock it all to the floor of the racebook, $100 bills scattering like leaves in an October wind. Very, very impressive.
But, at the end of the day I cashed out with a ~$66 profit, so that's way better than a $66 loss.
Back at McCarran airport, after climbing the 60 stairs in Terminal D because the escalator was broken, had been broken, and was likely to remain broken, I sat and waited for the plane to load to the incessant deedeedeedeedee of the bank of slot machines dominating the waiting area, grating like fingernails on a blackboard as I tried to read about Razoo. And every once in awhile one of the machines would scream out WHEEL ... OF ... FORTUNE!!!!!!!!!
What a town.
Very good Expo, DRF and Jim Quinn, but I wasn't a bit sorry to be leaving Las Vegas. And come to think of it, there hadn't been much time for either beer OR loafing all weekend. Back to a real racetrck for me.
Post Script - After I had been home several weeks, what do you know, my credit card got dinged for the difference in price between the room I originally booked with the DRF Expo people and the suite they eventually gave me. Fake Paris hotel in Las Vegas got nuthin' on the ones in real life Paris, France for packing on the late charges for stuff they said was taklen care of.