This was an amazingly big rodeo facility, by my experience. Wasn't too full though, on the final afternoon (Sunday) of a 4 day run. My impression was the huge party had already taken place, and the partiers gone home.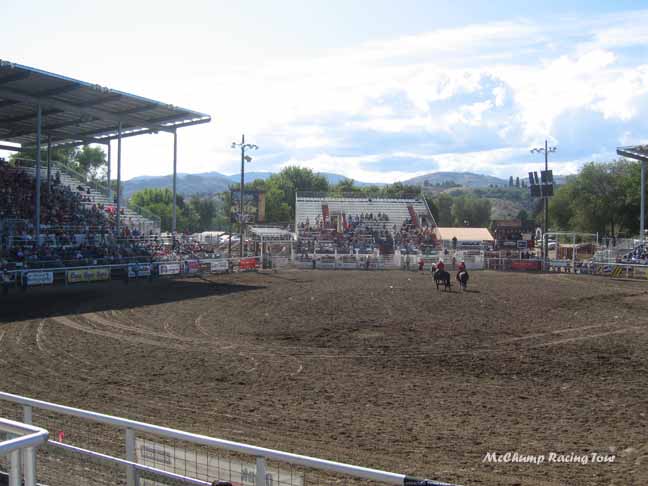 I missed bareback broncs messing around outside. There was still saddle bronc, though. (And P.S. ... it is damn scary when you start knowing all the rodeo events, cheering for performers when they rip off a good one, and even have some inkling how the scoring is done.)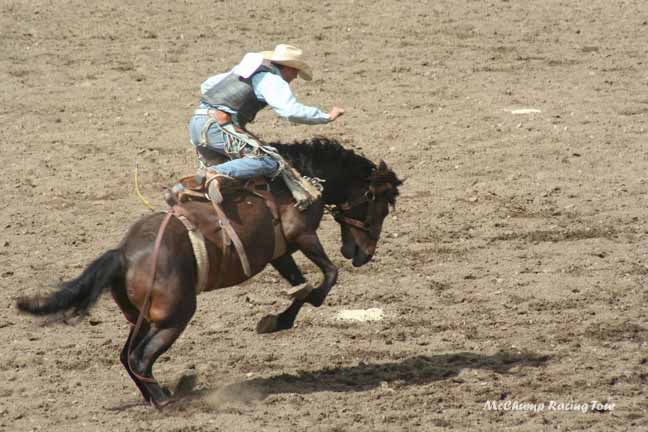 They had excellent rodeo queens at this one. This one was stunning. Nice, too, as she quite graciously acknowledged my existence when I encountered her riding by after the rodeo and told her, "Real good job today!" "Thank you", she answered. Swooooooon! I will never wash my ears again. They also had real jobs, hazing the wrestling steers back to the pen after their special ordeal. Here she is post-hazing. Swoooooon!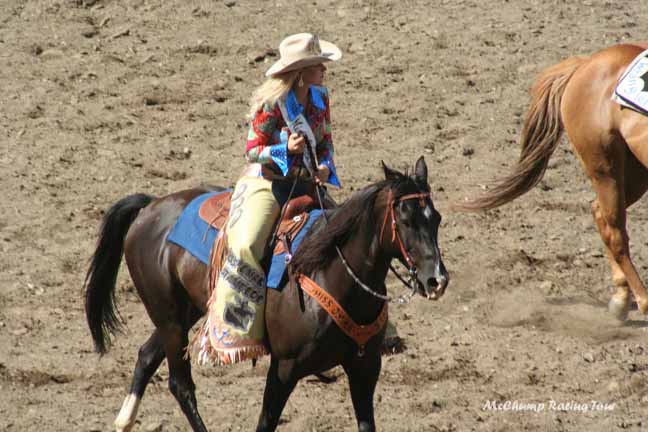 This rodeo also had "victory laps" around the ring for winners of the various events. You got to ride behind the girl with the Coors flag, and then get your picture taken with the gorgeous blonde rodeo queen pictured above. I was so jealous.
I think this guy might be a winner of team roping. One thing I did notice (or think) about this rodeo was these sure were docile animals for events like team roping. The gate would pop open, the steer/calf would saunter out and run perfectly straight and really slow, and they would rope it. And get a big score. BFD. Those beeves run like bats out of hell at the Montana rodeos. Or maybe these were just better cowboys.
Hokey smokes they also had a chuckwagon exhibition race ... of sorts. It was pretty contrived, compared to the hell-bent-for-leather "real" events I saw at Edmonton. The white team was so clearly much better that the yellow team, but the drivers managed to "fix" the race with some switching of who was inside and out to make the finish close ... Oh well, a brief diversion, anyhow.
The Summer of Ultra-Jingoism continues. Besides Our Announcer's opening harangue, we had the rodeo queens riding in a Humvee. I thought perhaps this failed to be quite patriotic enough ... they should also have been cheerleaders, and dressed in some sort of camo outfits.
Thank God there's still bulls. Totally apolitical ... just get off my back!