Thanks to my always flexible personal schedule and an understanding boss, I was able to stretch a business trip to our plant in Puerto Rico out by an extra day and visit the El Comandante race course outside San Juan. A worthwhile trip, indeed.
El Comandante is located in the small town of Canovanas, some 15 or so miles to the east of San Juan. Easy to get to, and easy to find - about a 40 min drive from the resort area of San Juan.
El Comandante offers races 4 days a week - Mon., Wed., Fri., and Sun. Post time is 2:00 pm, and when I went (Sunday) they were offering 8 races. Other days I saw they had 9.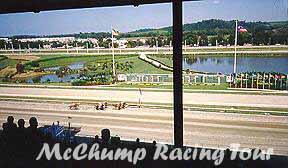 Parking is a bargain (free) and clubhouse admission was a mere $3.00. PP programs were free. The physical plant is well kept and spacious, and the track itself looks good, and the infield is beautiful - large lakes where several large birds dived for fish all afternoon, with a well-kept elevated walkway for the horses through the lakes from the stable area behind the backstretch. There's an inner dirt track which was not used while I was there, and the lush green Puerto Rican hills rise in the background. Altogether a most pleasing sight.
That part was good. However ... I didn't get to visit the backside, but I'm going to assign El Comandante a Backside Slop Factor (BSF) of the dreaded -0 anyhow, for the worst selection of food and beer in the concession areas I've ever encounted. Budweiser. Period. Blech. Then for food, some hotdogs and hamburgers and some sad deep fried local items and I was sorely disappointed. On the good side, beers were only $1.75, but still ... -0.
On to the races. They believe in running them there. Two of the races were 6f, and the rest were 1-1/16 or 1-1/8. Most refreshing, real races, especially after sitting through an entire card of 6f at Spt recently. The feature of the day was the8 Grade III "Clasico Ramon Llobet, Jr.", a $57,500 affair for 3 year old fillies (homebreds). The rest of the races were generally pretty good, too, the lowest claiming price being $6,500. Purses ranged from $6k for the lowest claiming up through $10,000 for the "no reclamable" (no claiming) races.
Betting was limited to win and place in all races, with exactas in 5 selected races, one quinella race and two daily doubles. Unfortunately, the large number of coupled entries and late scratches had the result of reducing the number of actual betting interests to 5 or 6 in several of the exacta races. And of course I got zapped when I bet against the favorite in one of these races with many coupled entries, only to have his longshot entrymate win the race. Phooey.
An interesting betting opportunity is the "poolpote", a Pick 6 for races 2-7 every day with a few differences. There's the usual carryover if no one gets it, but there's also a carryover if more than one someones get all 6. The big huge payoff of the entire jackpot pool comes if there's only one winner. The jackpot pool was some $367,000 on the day I went, so I had to bet it. Unfortunately my three winners assured that I will be going to work tomorrow. :-(
What else ... post parades are pretty casual affairs, all spread out and sloppy, sometimes with lead ponies and sometimes with just lead grooms, and always accompanied, for some reason, by a recorded version of the Colonel Bogey March; made good money betting a horse in the first ridden by one R. Baez who is (I was assured at the hotel by a man with a strong Boston accent) the leading rider at Rockingham; almost bet on a horse named Tom Terrific who had been running semi-successfully at Calder until two recent disasters, but the horse got scratched late so I assume this is one very sore horse; had one horse come up very very lame after the 2nd and had to be vanned off; had an escapee from the gate in the 6th which ran loose around the track for some 5 min, much to the crowd's delight, before being collared; had a 16-1/18-1 quinella which paid $293.70 (not to me); had a very animated crowd yelling during each race; and generally had a GREAT time! Well worth the effort.
At work the next day I told a Puerto Rican co-worker about the runaway horse, and he told me that horses refusing to get into the gate are a common sight - they don't like what happens to them in the gate. When I stupidly asked what he meant, he told me the stories of how the grounds crew finds all these batteries on the track after the races, and even how two jocks had "electric whips" confiscated. And how the jocks are not allowed to talk to anyone during the post parades. Well - I didn't see any of that, but who knows.
In other news:
- Much like the good citizens of Boston, I suspect that many of the residents of Puerto Rico bear the surnames Andretti, Unser, and Foyt.
- The Condado Plaza hotel is highly recommended - when someone else is paying. It moves into the #1 spot for "Separating Patrons From Dollars", *easily* beating out my personal previous winner, the Peabody in Orlando.
- The crafty mouse that had been foiling my every attempt to apprehend him finally made a fatal mistake during my absence.
All in all - a good trip. El Comandante is recommended to all racing fans.